< back to the BELMAL News index BELMAL NEWS APRIL 2015
Belmal Malletier, conference at the French embassy Brussels
Public relations. Belmal Malletier, partner of a conference.
On 31 March 2015, H.E. Bernard Valero, ambassador of France in Belgium, welcomed at the prestigious Résidence de France (at the boulevard du Regent in Brussels), the alumni association of the European university EU business school. On that occasion the ambassador made a presentation about the stakes of the French-Belgian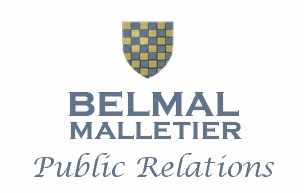 cooperation. The conference was followed by a reception during which the guests established new contacts with the alumni of which Jean-Pierre Bal, founder of Belmal, is a member. Belmal Malletier was one of the three partner organisations for this event at the embassy. Already on prior occasions Belmal offered its sponsoring support to the alumni association, namely for the 2014-conferences that had taken place in Belgium at the Cercle Royal du Parc in Brussels, and at the Osterrieth House of Antwerp.
< back to the BELMAL News index