About Jean-Pierre Bal
restorer, designer-malletier, curator, and teacher
(en français <-> Nederlands)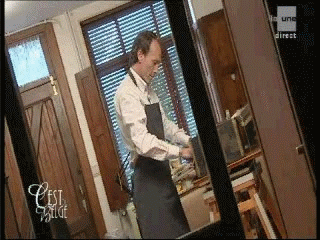 Jean-Pierre Bal pursues a multidimensional career shaped liked a helix in which classical, surrealistic, and unconventional styles form an inextricable interweaving of manual, artistic, and intellectual work. The roots of that creativity alloy are found in his upbringing and early life environment. In the 1950s his mother studied at the illustrious Royal Academy of Fine Arts of Antwerp. A few years later she won the first prize in an ELLE Magazine stylisme contest. Jean-Pierre recalls the early 60s, his childhood: "I loved those pieces of cloth, silk, draperies, and all sorts of textiles that she transformed into -fashion-. Following the family tradition his father taught him the use of wood and metalworking tools, and at an early stage. "At age 5, I had dared carving shapes into a concrete floor, with a chisel for woodworking though. Dad then started to teach me which tool matches which material and how to use the tools. Some years later, and as she couldn't find any space for it at her house, my grandmother brought an old LV trunk. I took care of it since but without realizing the role it would come to play in my future life".
Many years later Jean-Pierre learned on his own the classical methods in trunk-making, and occasionally blends in the art-painting techniques that he masters since the 1990s. Jean-Pierre restores vintage and antique trunks of the BelMal Collection as well as for third parties. He also designs and makes the exclusive BelMal Malletier artisan trunks, and some other quite singular trunk-shaped artworks. The income from those activities is allocated to the preservation of the historical heritage (Belmal Archives) and to the BelMal museum collection (a non-profit organisation; the restorer works pro bono).
He also assists talented individuals in the fashion professions, through personal coaching, and occasionally accepts internships ("I was already in my early forties when my art-and-fashion talents started to -really- emerge. So in that field I'm a late bloomer, but that has advantages too"). Before entering the realm of antique travel equipment he was active in the visual arts, as a hobby, but he is an award-winning pastels painter. In more recent years photography stepped in. He also has a knack for the 20th century's grands couturiers, Yves Saint Laurent and Cristobal Balenciaga in particular. (homage painting > website)
His other career is in education, in the field of leadership more precisely. He trains leaders
and educators; designs and delivers made-to-measure and journey-type of leadership development programs, and is president of an institute
(website).
The rise of BelMal
While he continues to restore antique trunks and create prototypes and new ones, Jean-Pierre heads BelMal's next and major developmental phase that started in 2015, continues in 2016, and extending into 2017.
Let's travel back in time, and see how BelMal came to hold the spotlight. It was in 2009 that the famous DELVAUX house of Belgium contacted JP Bal for the repair or restoration of travelling trunks that are part of the House's own trunk-making heritage. Jean-Pierre also contributed to the history-preparation, along with books lent by the BelMal Library, for the "Delvaux 180 Years of Belgian Luxury" exhibition at the Fashion Museum (MoMu) of Antwerp, Belgium. [1] footnotes, see at the bottom of the page.
In the summer of 2009 the Belgian "La Une" television channel made atelier recordings for a special broadcast. The "C'est du belge" (it's Belgian) TV programme that focused on the official opening of the brand new international railway station of Liège Guillemins, featured a ten minutes' special about the craftsmanship of the restorer, and the trunks of the BelMal collection. [2]
The year 2010 brought along the success of the "Histoire et passion" short-film by Marcel Hellebosch. Made in the first half of 2009 (before the TV one), and on the moviemaker's own initiative, the film shows the craftsmanship of the restorer, and some history aspects about antique and vintage travel trunks. The movie won three major prizes at contests in Belgium and France [3] It also led to the identification by the National Library of France (BnF); since 2011 Jean-Pierre is listed by name and profession in the BnF authority record of persons' catalogue [4]
The start of the year 2012 was marked by the coincidental publication of articles in two upper-class lifestyle magazines: "Un artisan hors norme" (transl. a craftsman beyond boundaries) [5] and "Restauratie vergt reflectie" (restoration requires reflection) [6] Further, into 2013-2015, American, Qatari, and Polish magazines published articles about the restoration or manufacture of new trunks at BelMal Malletier [7]
[8] [9]
Alongside the usual restoration work, in 2013-2014 Jean-Pierre's creativity resulted in ideas and sketches of more than 80 new trunks and their finishes, and some prototypes. The year 2015 marked the start of a new phase, with for instance the discrete release of a few of the Belmal Sessions (see News). Amazing novelties will be shown in 2016-2017. Nonetheless, small is beautiful and bespoke -or shall we say word of mouth- continue to be the main sources of reference for BelMal's master-artisan. And in movies too [10]
Contact email: info@belmal.be Phone: +32 86 49 94 94 (in Belgium: 086 49 94 94)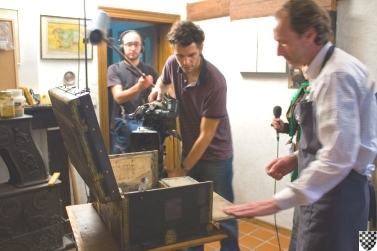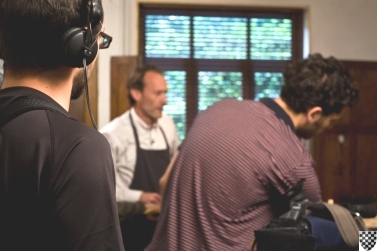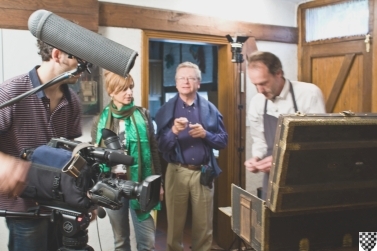 Belgian TV recordings that took place in the restorer's atelier
video-clips : television (excerpts) | renovation (slideshow) | short-movie (excerpts)
| home | restoration | archives | virtual visit | expertise | manufacture | institute |