< back to the BELMAL News index BELMAL NEWS AUGUST 2016
BESPOKE CABINET TRUNK FOR RACE TROPHY: 24H OF SPA FRANCORCHAMPS
| Français | Nederlands |
Crossing the limits, just this once, of the proverbial discretion about their clients, the Belmal Malletier house based in Belgium disclosed photos of the masterwork made for a corporate client in the automotive sports sector. It's a special case, a cabinet trunk that contains a famous "24 Hours" winners trophy. Having succeeded in the extra-ordinary challenge of manufacturing the bespoke and grand prestige object in the space of 5 weeks, Jean-Pierre Bal, master-craftsman at Belmal, is no less proud of also being the Belgian atelier trunk-maker selected by a Paris-based client for the hand-made production of a custom-designed transport case. It houses the exceptional multi-year trophy of the top-prize winners of a famous GT car race that is Belgian too: the 24 Hours of Spa at Francorchamps.
The international GT Series is sponsored by Blancpain, the illustrious watch-making house founded in 1735, and the Belgian race by TOTAL, with the on-track race supervision by the RACB Royal Automobile Club of Belgium. It is the organizer of GT races, the SRO Motorsports company, that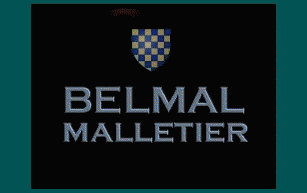 became the happy owner of the new trunk. When it was shown for the first time, on the podium of the Theatre in Spa, Stéphane Ratel, CEO of the SRO Group, stated: "it is magnificent", while Sophie Peyrat, Team Manager, in charge of the order and follow-up, shared with M. Bal: "we have made the right choice". Indeed, at the very start the client-CEO and the malletier (trunk-maker in French) did not have the opportunity of meeting in order to agree about, for example, the choice of the leather that covers the entire trunk. "Moreover, I had to hurdle my way through a series of delays related to the supply of special parts, and also an unexpected technical challenge", added Jean-Pierre Bal. Eventually, during the final days that preceded the agreed delivery date, the master-artisan worked from 5 AM to 10 PM. He was certainly going for the long shot: a grand luxe case, with a lifespan of minimum 50 years, and a travelling one, meaning that it is conceived for horizontal or vertical transport, by car or in a racing team truck, while the interior had to be lined with velvet, much alike a jeweller's box or chest, a real shrine. The bet was won, the timing complied with, and the final result is stunning. With its 4 feet height (1m22) the special cabinet trunk compares to no other, it is truly unique. All of the BELMAL are, as a matter of fact.
< back to the BELMAL News index