ECOLE DES MALLETIERS
the tribute to Nicolas Gilbert and Jean Paré of 1530
(previously: BELMAL CONSERVATORY - Institute Courses and Workshops)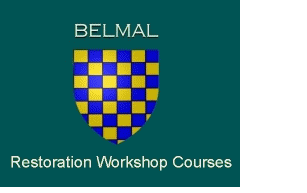 trainee in 2013, fundamental techniques course programme
The new Ecole des Malletiers programme and course offerings effective as of January 2018, to be found on the dedicated ECOLE DES MALLETIERS Belgium websites. For France see also Jean Paré project
The information found further below is valid until 2017 only.
WORKSHOP COURSES - restoration of antique travel equipment (trunks...)
Since 2010 individual workshop courses ('hands-on'), during weekends (or if preferred during weekdays). An adequate knowledge in the use of tools, and in working on wood, metal, and with fabrics, is a prerequisite. Students/trainees sent on special training by other craftsmanship-schools are also welcome. The conservation and restoration courses are always for one person at a time, tended to by the master-restorer, and take place at the BelMal workshop situated in an exceptional environment of the Belgian Ardennes*. The main house has guestrooms (hotels and b&b also nearby).
Institute for travel equipment history studies (ITES)
Special course programme for the Certificate in Travel Equipment History. The ITES courses are for professionals who are active in the arts, history, antiques, fashion, crafts, auction houses,... and who wish to specialise in the history of travel equipment, the artisan malletier industry (craftsmanship), and luggage design. Depending on the residence or work location of the programme participant the courses are offered in a personalised or in a group-mode, and either in an "executive" format (evenings) or in online distance education (blended learning). All course materials are in English. Every quarter there is an in-classroom course-module (two days), at the Belmal House or at a host-site.