ENGLISH
---
View the TV broadcast first
click here (in French).
---
Below right, video of the renovation of a cabin trunk (see also: 4R concept). BELMAL exclusive 'year 1117' damier canvas, here in its 'Gonzague' prototype version (see also o affixed onto a 1900's trunk. The trunk's original lining was too shabby it could not be restored. Length of clip, on YouTube only: 1:37 © copyright 2010 BELMAL. All image rights reserved.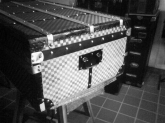 videoclip 2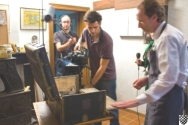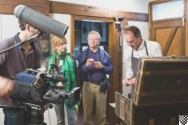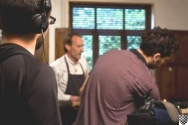 ---
Pour voir les extraits de l'EMISSION TELEVISION, cliquez ici.
---
Ci-bas, vidéo-résumé, rénovation d'une malle-valise cabine (voir aussi : concept 4R). BELMAL, toile damier exclusive '1117', version prototype 'Gonzague' (anno 1057, voir aussi mise à jour), toile apposée sur une malle de +/- 1900 (la toile d'origine en très mauvais état ne permettait pas la restauration) Durée du clip, YouTube : 1:37 © copyright 2010 BELMAL. Tous droits réservés.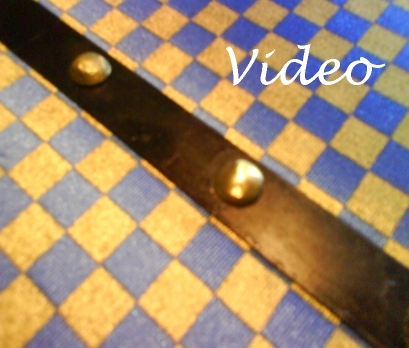 NEDERLANDS
---
TV-uitzending eerst bekijken,
klik hier (in het Frans)
---
Links beneden, video mbt renovatie van reiskoffer (zie ook het 4R concept). BELMAL exclusieve 'jaar 1117' damier stof, in de 'Gonzague' (1057) prototype versie, bekleedt een reiskoffer van de jaren 1900. De zeer slechte staat van de oorsponkelijke stof liet geen restoratie toe. Duur v/d clip, YouTube : 1:37 © copyright 2010 BELMAL. Rechten op de beelden voorbehouden.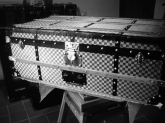 videoclip 3 (offline)