< back to the BELMAL News index BELMAL NEWS MAY & SEPT. 2015
Belmal Collection, mobile museum, luggage props for "A ROYAL NIGHT OUT" movie
in het Nederlands en français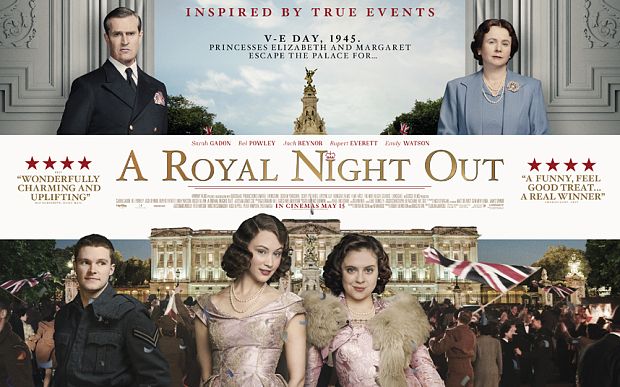 The movie 'A Royal Night Out', a romantic comedy ('romcom') directed by Julian Jarrold, illustrates a particular moment in the lives of Princess Margaret (played by Bel Powley) and Princess Elizabeth (future Queen Elizabeth II), played by Sarah Gadon. Both were allowed out to leave Buckingham Palace at night, in London, for the first time in their lives and to join the VE-Day celebrations that marked the end of WWII, on 8 May 1945. Movie release: 15 May 2015 (UK), premiered on 8 May 2015. BelMal Malletier provided props (trunks, valises, bags, hatcases,...) from its museum-collection, for movie recordings that took place in Belgium in May 2014 (at the Hotel Metropole, Brussels).
Photo above: passing alongside Princess Elizabeth, hotel staff carry a BELMAL collection-trunk that originally belonged to a US Air Force officer (after the war he was stationed on an airbase in Germany). The same trunk was used for the 1945-2015 Battle of the Bulge commemoration photo-session of May 2015.
Photo below: a porter holds a Hartmann wardrobe suitcase, a type of luggage that formed the bridge between the wardrobe trunks of the 1st half of the 20th century, and the post-war (modern) suitcases.
© Copyright 2015, Bridgegate o.b.o. BELMAL Museum and Trunks Restoration, BELMAL Malletier, ITES Institute for Travel Equipment and Luggage (Conservatory). All rights reserved. Reproduction not allowed | Update: 2015-09-30