< back to the BELMAL News index BELMAL NEWS JUNE & OCT. 2015
Belmal mobile museum collection, local railway in Erezee (Belgian Ardennes).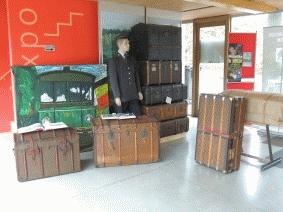 It's in the small station at Pont d'Erezée, starting point of the Tramway Touristique de l'Aisne (TTA) that since June 2015 all visitors can see a small selection of five trunks presented piled up and in their used state. On loan to TTA, those trunks are part of the BELMAL collection archives. The TTA is the proud successor and operator of a track portion of the former "Société des chemins de fer vicinaux des Ardennes", that connected Comblain-La-Tour with Manhay and Melreux.
In the frame of the amicable cooperation between TTA et BELMAL, a mini-conference took place on Sunday 18 October 2015. Jean-Pierre Bal, renowned malletier-restorer, took the small group of guests on a fictional and anecdotal voyage into history, evoking for instance the souvenir of the emigration during the past centuries of inhabitants of this region of Belgium, who left for North America. The story was interlaced with explanations related to the manufacturing of travel trunks, and other technicalities. For that occasion M Bal had brought other trunks still, among others his famous mail trunk by Louis Vuitton, an object of which he ensures the guardianship since more than 40 years, as well as a trunk covered with boar hide, a symbol of Ardennes manufacture of the early 19th century. The object, left untouched in its shabby state, and acquired by Belmal some years ago. It was found in Florenville, a town of the Gaume region bordering the Ardennes in the Belgian Province of Luxembourg.
< back to the BELMAL News index