< back to the BELMAL News index BELMAL NEWS JANUARY 2015
The Belmal chequered canvas, a story still to be published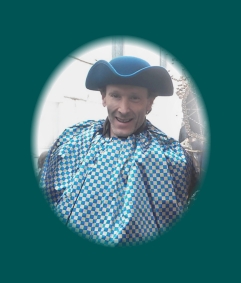 The snapshot shown at the right, taken in Venice, Italy, in February 2009, depicts JP Bal, BelMal's master-malletier, taking part of the city's Carnival festivities. He wears a costume made of a fabric with the antique gold and azure blue chequered pattern. Initially called "Gonzague" it became the prototype of the BelMal damier.
From historical research undertaken thereafter, the pattern and colours' combination proved to be more than 950 years old. The canvas was then renamed into "Year 1057". More recently the dating was determined with highest accuracy and supporting proof, namely to the year 1117. The BelMal damier colour pattern is also the BelMal logo.
An exposť of this amazing storyboard about a pattern that has survived the centuries, and about the meaning of the two colours, will be found in a forthcoming issue of the Belmal News.
< back to the BELMAL News index