| home | restoration | archives | virtual visit | expertise | malletier | institute |
THE BELMAL ARCHIVE
| en français | Nederlands |
.
The BELMAL Registry of Trunkmakers brand names, Antique Travel Equipment and Ancient Luggage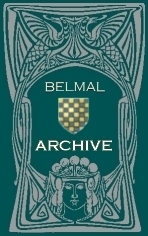 Editor: JPB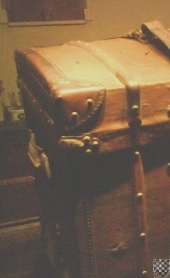 Charles Delvaux trunk of 1907 (the "Edison" model registered in 1898). This one was damaged during the war (bullet holes in the lid). (BELMAL museum collection)
ARCHIVE ENTRY
DELVAUX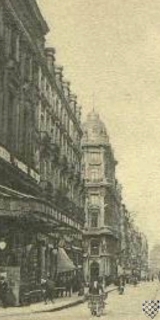 Boulevard du Nord, in 1919.
The Delvaux shop was at the back-left of the person pushing a cart with trunk. (BELMAL Archive)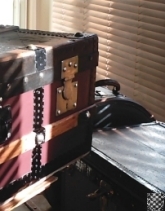 Veuve J. Delvaux suitcase cabin-trunk, around 1895, with cedar slats. The banding has three rows of nails, and the trunk's lid is iron-clad. (BELMAL museum collection)
Delvaux (late 20th century: aka 'Maroquinerie Delvaux', and 'Delvaux Créateur'), company established in 1829. During the early 19th century the House combined the primary activity of trunk-making with a secondary one, namely that of producing certain types of leather goods. For the trunk-making or malletier activity in particular: trunks were made in their own ateliers until about 1914. The refocusing on the sole activity of fine leather goods (in French 'maroquinerie') took place by the 1920s. The family-owned company was sold in 1933; the new owner leaves the name/brand unchanged. Modern type of valises were made as of approx. 1946. The company's renown since the 1960s is in the luxury leather handbags sector. 

Royal awards. By appointment (brevet) to HM the Queen of Belgium (HRH Marie Henriette), awarded in 1883 (until 1898). To HM the King (HRH Leopold II) in 1907 (until 1909). To HM the King (HRH Albert I), and HM the Queen (HRH Elisabeth), awarded in 1910 (until 1914). To the Court aka Royal Warrant-holder, awarded in 1964 and renewed since.

Note: the BELMAL research does not encompass the luxury leather goods (bags) activity, only the malletier (trunkmaking) history of DELVAUX, until approx. 1920. Further, to be published in due course, the BELMAL Brussels trunkmaking manufacturers' history retrospective, interwoven with "Oakstreet, Ketche of Brussels, Year 1971", anecdotic autobiographical material of the Belmal master-craftsman. 

.
COUNTRY [2]
Belgium, BE, Bruxelles (Brussels)
LOCATION(S) [3]
DELVAUX historical addresses in Brussels, until 1933, click here
BRAND(S) [4]
Family names and brands, until 1933, click here
Ed. : JPB
All of the registry entries and the data reflect the current state of archiving, or only part of it (in progress), and may therefore not be fully complete.

For the explanation of the fields [1], [2], [3] and [4] found above, please click here
| home | restoration | archives | virtual visit | expertise | malletier | institute |
© Copyright 2021, OGISPES o.b.o. BELMAL malletier private collection Museum, Trunks Restoration, and Archives and Ecole des Maletiers Paré et Gilbert formerly ITES Institute for Travel Equipment and Luggage History Studies (Conservatory). All rights strictly reserved. Reproduction of any content of this website is prohibited. This page was updated on: 2021-12-17